Hockey Quote:
Sean Avery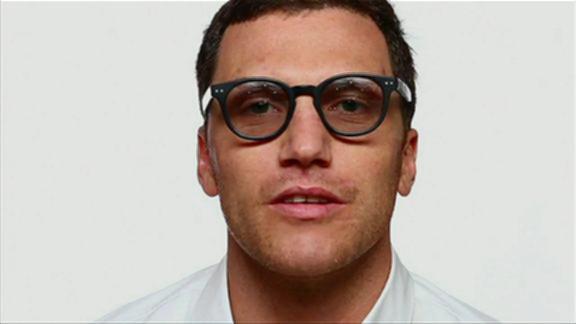 New York Rangers
forward
Sean Avery
became the first New York sports athlete to publicly voice his support for legalizing gay marriage in the state. Check out the PSA he did for "
New Yorkers for Marriage Equality
":
Stick tap to Avery for having the guts to come out and make such a bold statement. Two-minute minor for those ridiculous fish bowl glasses.
The only unfortunate thing to come out of this otherwise positive story is what's going on with
troll
hockey agent Todd Reynolds. Using Avery's shoulders as his own personal soapbox, the otherwise hardly known Reynolds went on a tweet-spurt last night criticizing Avery for his message:
"Very sad to read Sean Avery's misguided support of same-gender 'marriage.' Legal or not, it will always be wrong."
After this first tweet, Reynolds – who represents NHL players
Chris Neil
,
Cody McCormick
and
Mike Fisher
– immediately went into damage control, tweeting:
"To clarify. This is not hatred or bigotry towards gays. It is not intolerance in any way shape or form. I believe we are all equal."
. . . and . . .
"But I believe in the sanctity of marriage between one man and one woman. This is my personal viewpoint. I Do not hate anyone."
. . . and finally, in a radio interview, further clarifying by saying,
"I believe in voicing your opinion and not being part of the silent majority," he said on TSN radio. "If Sean Avery or any other player can comment on one side of the discussion then -- I work in hockey, I'm in hockey 24-7 -- why can I not comment on it as well?"
Now, everyone has the right to voice their opinion, and I agree with that last Reynolds quote – he has every right to say what's on his mind. But dude, make something of yourself first and then stand on your own two feet to let people know what you think. Don't use someone else's positive publicity to mainstream your counter-message.
This whole Reynolds situations reeks of lameness. Tsk-tsk.