Hockey Music:
Boston Bruins Goal Song
In continuing my (hardly planned out/entirely random) trip around the league to share with you each team's goal song, this week I'm swinging by
TD Garden
, home of the
Boston Bruins
.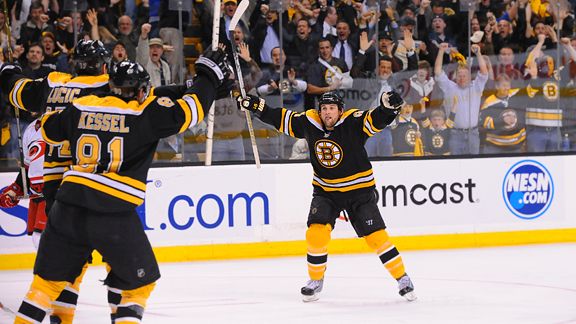 Figure this to be (hopefully not) the last time I post a Marc Savard in a Boston Bruins jersey celebration photo.
When the Bruins score a goal, what follows are two long, drawn-out, almost Martha's Vineyard ferry-like horns. This then leads into the popular song, "Zombie Nation" by Florian Senfter (a.k.a. Splank! - no, seriously) which if you haven't already heard, allow me to be the first to welcome you out from the rock under which you've been hiding for the last 10 years.
Granted, the name may not sound familiar to a few of you youngin's, but in all likelihood, even if you're five years old, you've heard this song either played at another sports venue, on a video game, in a TV show, in a movie, on your parents' iPod . . . you get the picture. It's the old-school Mylec street hockey goalie leg pads of celebration songs – it's been used everywhere by just about everyone.
In terms of anthems, yes, it's pretty generic – but hey, it's lasted this long because it does the job in getting the crowd pumped up and in hockey, that's all that matters. Take a listen and enjoy (by the way, I chose this link in particular because of the AWESOME comments that are included in it – take a look at the spat and enjoy):
Sing. Dance. Play hockey!