Hockey Goal:
Patrick Kane
Congratulations to the
2010 Stanley Cup Champions
,
Chicago Blackhawks
.
In the end, it was the Byfugliens and Toews and Kanes who outplayed the Richards and Carters and Gagnes. It was a tight series all the way through and though some are blaming
Michael Leighton
for the
Philadelphia Flyers
downfall, truthfully, I can't find much fault in a guy who made 37 saves in an effort to try and keep his team in the series.
But in the end, it was ultimately
Patrick Kane
's twisted wrister from the nowheres-land part of the rink that won it all for the Blackhawks.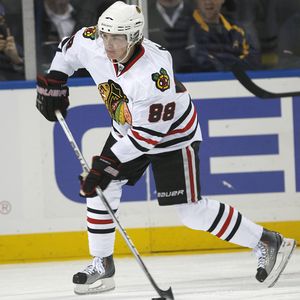 It was a pretty awesome shot that started off with about five or six head fakes, and since it was the game-winner, series-winner, and Cup-winner, it makes my job pretty easy in picking out the goal of the week. I'm sure you've already seen it, but for hockey's sake, enjoy it one more time below: